Learn how to make a fun and spring dessert with Jell-O! Tell us how it goes in the comments below
Ingredients:
3 oz Jell-o package (each color)
¾ cup boiling water for each color
¼ cup sweet cream or French vanilla creamer for each color
½ cup vanilla yogurt for each color
Optional- whipped cream and sprinkles
Materials:
Medium sized bowls, one for each color
Cups
¼ measuring cup
½ measuring cup
Measuring cup for water
Whisk
Steps:
1. Put each of your 3 ounces of Jell-o into a separate bowl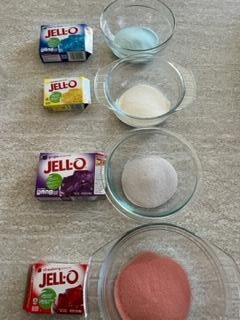 2. Add ¾ cup of boiling water to each color of Jell-o and whisk until completely dissolved. Place your first Jell-o, the color you want on the bottom of your cups, in the refrigerator for about 10-15 minutes, or the freezer for about 5- 10 minutes, until it reaches room temperature. Make sure it doesn't harden, just cools to room temperature. Leave the other colors out to cool.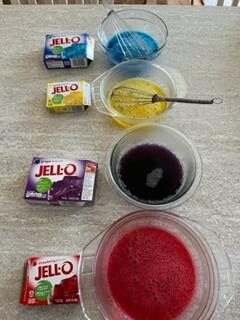 3. After your first color reaches room temperature, start adding the other ingredients. Add ¼ cup of creamer
4. Add ½ cup of yogurt and whisk until combined.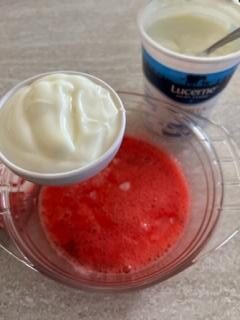 5. Pour even amounts into each of your cups and place them in the refrigerator for 10-15 minutes or the freezer for 5-10 minutes. Before you take them out to add the next color make sure they have slightly hardened. When you touch them, they should feel mostly set and leave a small mark from your finger.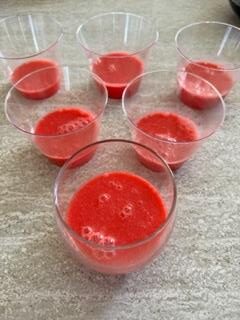 6. When your first color is almost set, move to your next color. Make sure it is at room temperature but not hardened. If it begins to harden, heat in the microwave for 10-15 seconds and let cool again. If it is not cooled completely, place in the refrigerator or freezer for a few minutes. Add ¼ cup of creamer.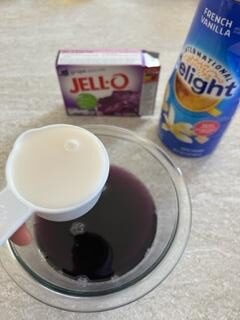 7. Add ½ cup of vanilla yogurt and whisk together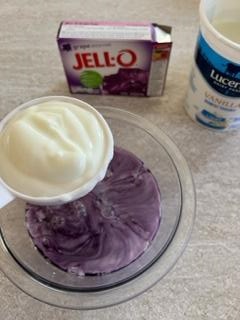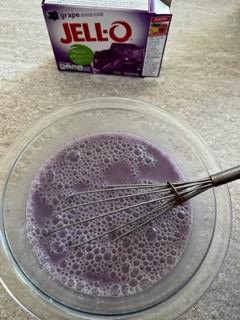 8. Pour even amounts on top of your first color and place the cups in the refrigerator for 10-15 minutes or in the freezer for 5-10 minutes to mostly set before adding your next color.
9. Repeat steps 6-8 for each of your remaining colors
10. Once you've added all your colors, place your cups in the refrigerator for at least four hours to allow all the colors to completely set. You can optionally pop some of the bubbles on top with a toothpick before placing them in the refrigerator.
11. Once completely set you can optionally add whipped cream and sprinkles and enjoy!